Since moving to Chicago, I have been able to keep up a pretty good exercise routine on my bike. This is really important during the COVID-19 pandemic since with gyms closed and all that, this helps me stay healthy. Also, since I am otherwise mostly at home (my job is from home and I'm limiting how much I leave in order to help prevent the spread of COVID-19), biking is a good (and reasonably safe) way to get outside.
I used to run cross-country and track in college, but unfortunately cannot run significant distances anymore due to an injury, requiring me to find alternate forms of exercise. I started with swimming in the fall of 2019, but it was often difficult to motivate myself to do it and just didn't feel right for whatever reason. I avoided the exercise bike since I had done that before and the time there seems interminable and I have to go really hard for a decent workout. In January 2020, I settled on the elliptical since we had a bunch of them available at CWRU and it was reasonably similar to running, but didn't cause me any problems. With that, I started getting back into shape. Once I got sent home due to the pandemic, I continued on the elliptical since we had one in the garage. Upon moving to Chicago, I needed to find another option since my building doesn't have any exercise equipment. Biking seemed like a decent option, since it avoided some of the pitfalls of the exercise bike (in particular the fact that your legs are the only thing moving) but still gave me a good cardio workout. As an added bonus, I could bike outdoors and explore the city some.
I first started out biking along the North Shore Channel Trail. I wanted to go on the lakefront trail, but it was closed in order to prevent congregating. It's a pretty decent trail that goes from Chicago up to Skokie then Evanston. It doesn't cross a lot of streets, making biking more pleasant. However, it's a massive pain to get to, requiring a lot of biking down city streets, in particular some that are less than bike friendly. The trail also isn't all that scenic, offering a pretty standard suburban view the whole way.
At one point I did a bike ride downtown for some photos. I didn't want to travel on the CTA at the time so that essential workers could have more space, but did want to go downtown to get some pictures. I managed to do so while not getting near anyone, and here are some of the pictures I got:
I also considered alternate routes. I then settled on a route that went further east, staying close to the lakeshore. That one takes me right through Northwestern's campus, and then onwards through Wilmette, and eventually up to Kenilworth and Winnetka. I liked that route a lot more since it was much more scenic and also allowed me to go further. The northern part of the route also paralleled a Metra line, and I briefly got some pictures there with my phone.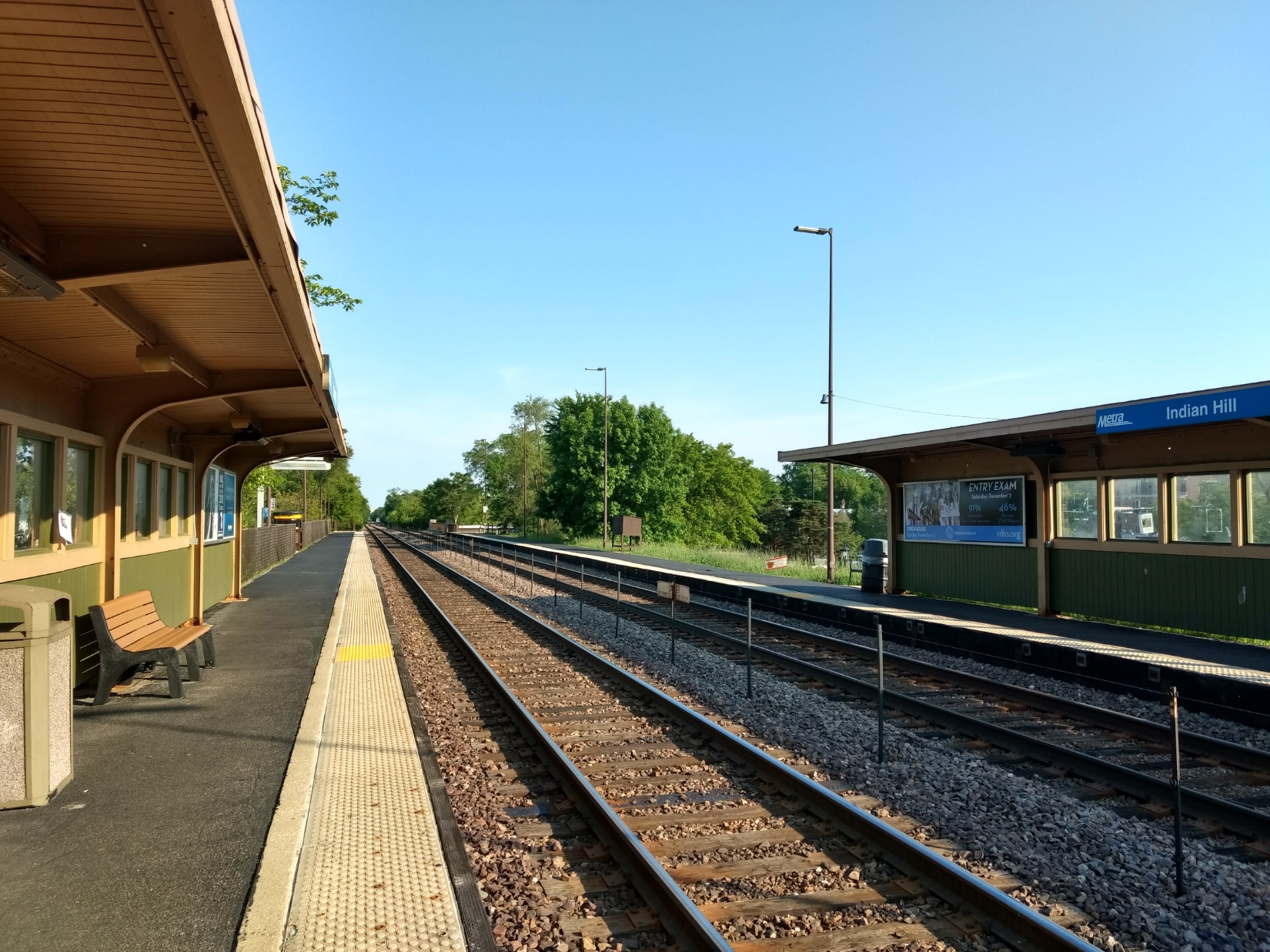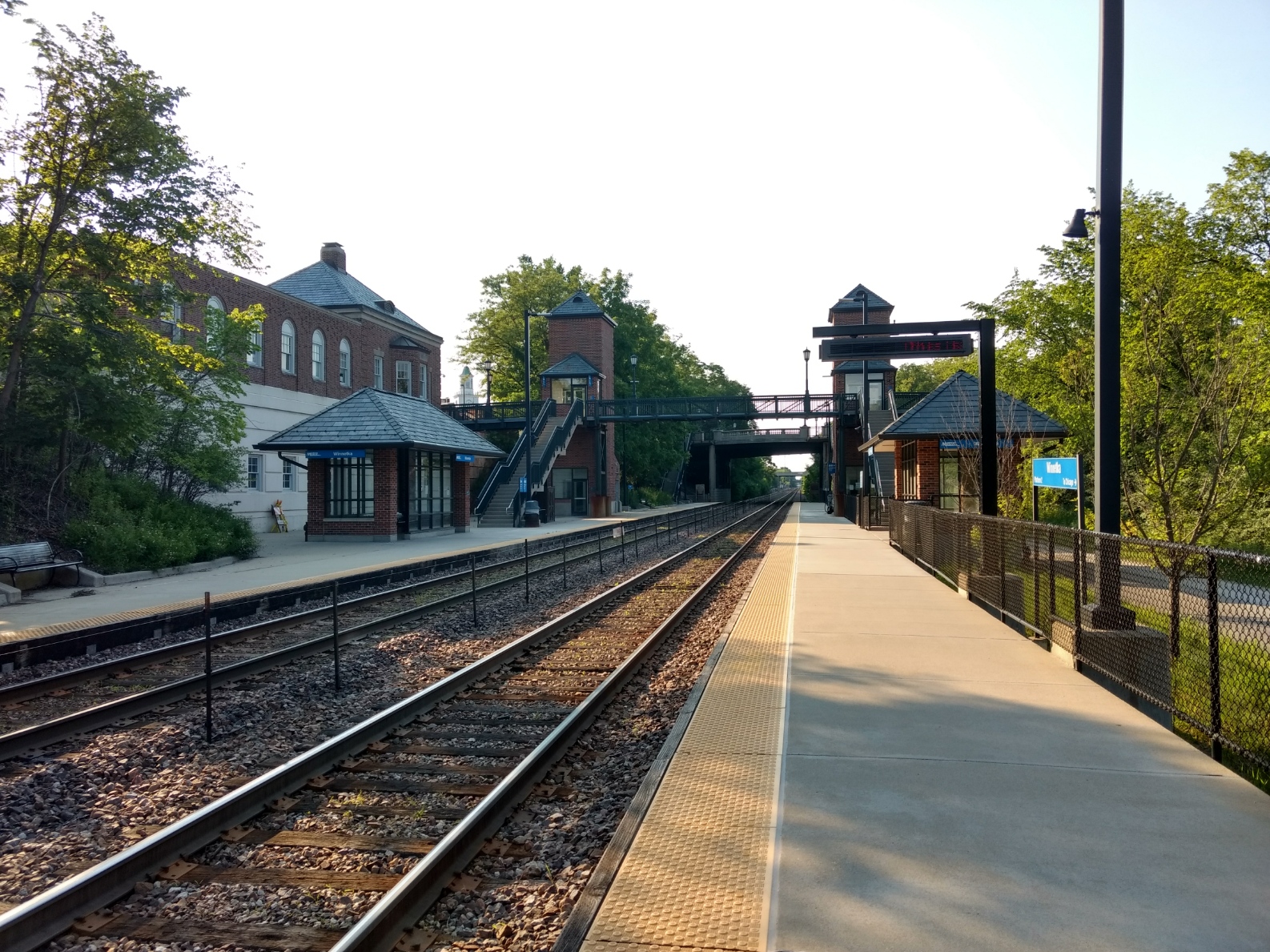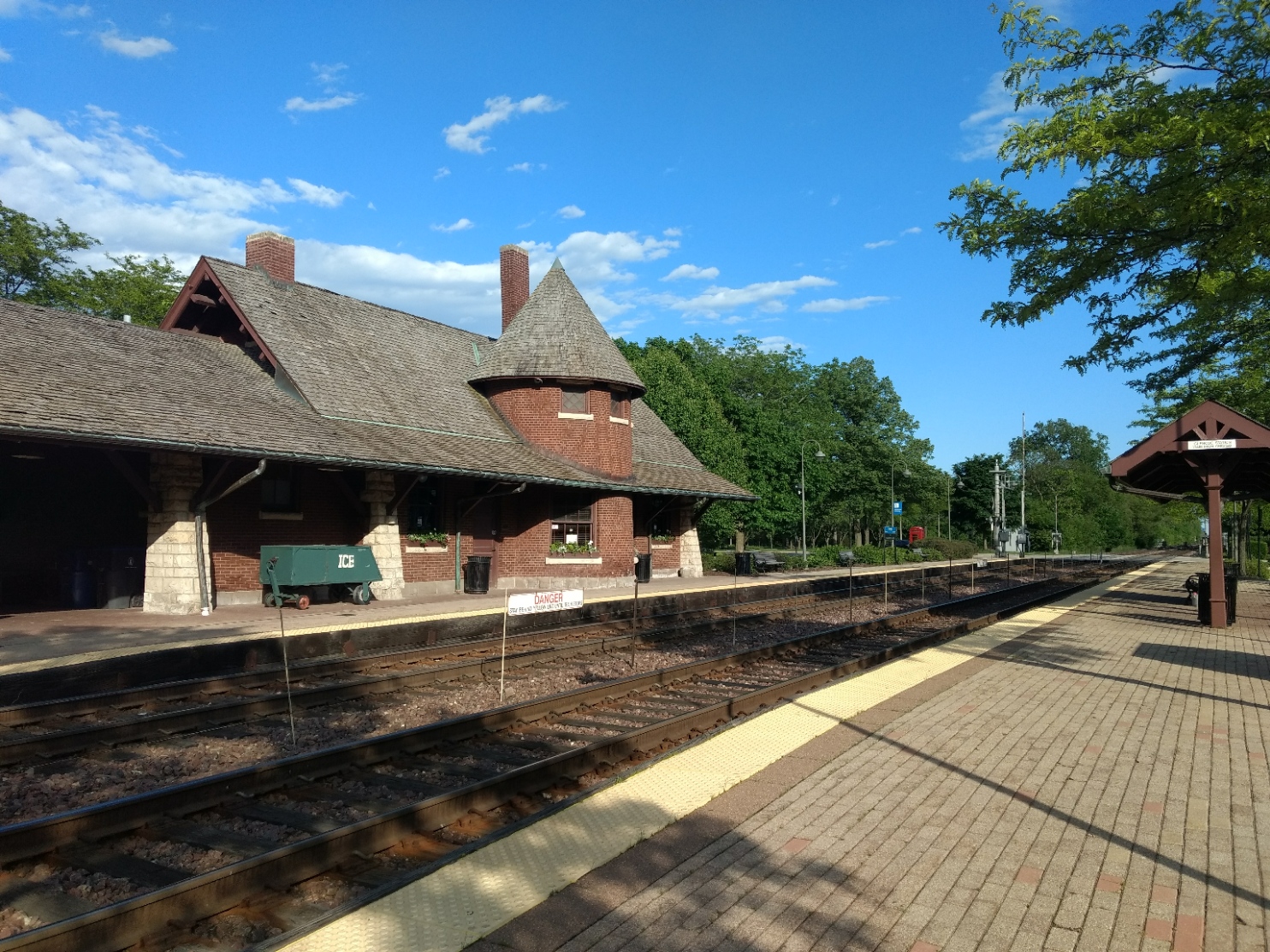 One day I planned to bring my real camera to photograph all the Metra stations along the route, but alas that trip was not meant to be. I got a flat tire up by Howard, so I had to walk my bike over to the L and return home. I then had to spend a good chunk of the rest of the day finding a new inner tube for my bike (since the tube is very old at this point, I figured it was worth getting an entirely new tube rather than just patching it). Since it was a Sunday, I couldn't find any open bike shops near me. I then looked to Target, and found that they had the tube in the size I needed, but nowhere near where I live. I ended up getting there on the L. However, even after that, I still didn't have a tire lever (the location where I got the tire didn't have one), so I still couldn't replace the tube. I then found that another Target location had that, but still not my usual location, so I got to take a nice long walk to get that. Then, with new tire (I bought an extra one just to be safe) and tire levers, I replaced the tire and was back in business. Unfortunately, I haven't had the right weather (a completely blue sky) on a weekend since then, so I unfortunately haven't been able to take that trip. It will happen someday.
Then, last week, the lakefront trail reopened. That was so much easier since I only live a few blocks away. The trail also separates bikes and pedestrians for much of its length, allowing me to get some good speed going. As an added bonus, a lot of the parking lots along the trail are still closed, so I can cross them more easily and quickly. Unfortunately the trail is closed between North Avenue and Ohio Street for construction due to significant pavement deterioration between those locations, so I either have to turn around at North Avenue or bypass that area on city streets near downtown. So far the farthest south I've been is Museum Campus, but I will definitely continue on further south in the future.