I recently had the good fortune of being able to take a vacation to Toronto. The chief reason I took this trip when I did was because Line 3 of the Toronto Subway, also known as the Scarborough RT, is closing soon.
For some context, here is a map of the Toronto Subway as of the time I post this: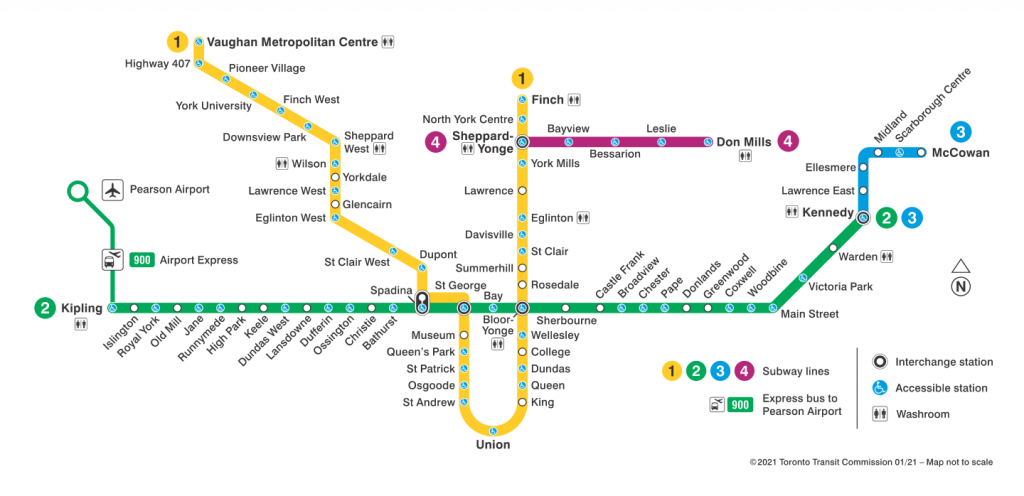 Line 3 is that short blue one way off to the east. It serves Scarborough, a suburban part of Toronto, Unlike Lines 1, 2, and 4, which run conventional rapid transit equipment mostly underground, Line 3 runs smaller automated railcars powered by linear induction motors and is fully above-ground. The idea was that since Scarborough was a lower-density area than most of the rest of the Toronto Subway service area, they would use a somewhat "lighter" technology that cost less to operate and maintain.
The route is only six stations over four miles, and is entirely suburban, requiring a connection at Kennedy to reach downtown Toronto. Additionally, the ridership is very low compared to the rest of the system, with only one station besides Kennedy (Scarborough Centre) ranking better than 40th out of 75 among subway stations.
Owing to the fact that the line currently has fairly low ridership, operates different technology than the rest of the subway, and the fixed infrastructure and rolling stock are old enough that they all would need to be majorly overhauled or replaced entirely, the government of Ontario has decided to replace it with an extension of Line 2. The extended Line 2 would cut farther east to a more residential area instead of the current industrial corridor seen between Ellesmere and Kennedy.
I wanted to see what was there before it's lost to time, so here's what I found:
The design of the stations definitely looked pretty dated. There hasn't been much change since they opened in 1985, and you can definitely see that in their design. I also was delayed because of mechanical problems at Kennedy, reflective of the issues the line faces right now.
Scarborough Centre was definitely the most active part of the line. I actually saw a good number of people getting on here. It's right next to the Scarborough Town Centre shopping mall, and also has a number of connections with TTC and GO buses. This is the only station (other than Kennedy) that will be served in approximately the same location by the Line 2 extension.
Ellesmere is the lowest ridership station in the entire Toronto Subway system, and I could see why. It's pretty isolated, and it doesn't even directly connect with Ellesmere Road (which bypasses the station on the overpass). There really isn't anything around the station.
Lawrence East also felt somewhat isolated, but not as bad as Ellesmere. It helps that it has a bus connection on Lawrence.
I'm surprised McCowan doesn't have higher ridership numbers, given that it's located in what looks to be a reasonably high density area with several bus connections. I guess this can be attributed partly to its proximity to Scarborough Centre.
Midland, on the other hand, doesn't surprise me it has low ridership (second lowest in the entire system after Ellesmere). It only has one bus connection and appears to be in a fairly low density area without any major housing or employment centers or other destinations nearby.
With all this, it makes sense why they're replacing this with an extension of Line 2 and rerouting it. The current train mainly just serves commuters from the Scarborough Centre area heading to Kennedy, and they have to make a transfer there, while a Line 2 extension would eliminate that transfer. The rerouting will also hopefully attract more passengers by going through a residential area instead of an industrial one. Of course avoiding having one short line that's incompatible with the rest of the system (increasing maintenance costs and adding operational complexity) will also be a good thing. However, it is a shame that the residents of Scarborough will have to go roughly seven years without rail service between when Line 3 closes and the Line 2 extension opens.